SHINIGAMI
Basics
Name:Shunsui Kyoraku
Gender:Male
Age: looks 40 true age N/A
Personality:Kyōraku is a laid back and flamboyant man, evident in his style of dress and general attitude, and he is rarely seen without a smile on his lips. In his off time, he can be seen drinking sake in bars and napping. He likes steamed buns that go with sake, but dislikes powdered green tea. Other times, he likes to chase after women, particularly his lieutenant, Nanao Ise, whom he calls "my Nanao-chan" (Lil' Nanao in the English Dub). Nanao will often respond by hitting him with whatever she has on hand. He would have also done this when Lisa Yadōmaru was his lieutenant, which shows that teasing is a part of his personality. Kyōraku tends to use a more familiar speech style than most other characters. He generally refers to his fellow captains and Shinigami by their first name followed by an honorific. Kyōraku is a peace-loving man who will always try to talk his way out of a fight, though he doesn't wish to insult opponents by refusing to fight. The slightly eccentric Kyōraku also seems to like making an impression on opponents. He also dislikes taking the life of innocent people, as he left Chad alive when Nanao offered to kill him.
Apperance
Appearance: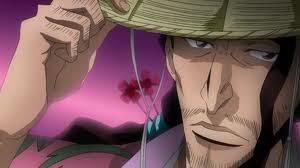 Height:6foot3in a half inches
Weight:191 pounds
Eye Color:Brown
Hair Color:Brown
Zanpakutô
Zanpakutô Spirit:N/A
Zanpakutô Realm:N/A
Sealed Zanpakutô :His Zanpakutō is unique in that it exists as two completely separate swords, existing as a daisho sword pair, consisting of a tachi and a wakizashi. Their cross guards are rectangles, with the corners cut off, decorated by a pattern of cherry petals and lines, and each sports a dark-blue handle. He keeps them sheathed through his waist tie at his left side; although, during battle, the swords have been shown to be placed on both sides of his sash. Like other Zanpakutō, Katen Kyōkotsu has a personality of her own. However, unlike other Zanpakutō, this personality shines through in battle and prevents Shunsui from fighting with his full powers until Katen Kyōkotsu is in the mood for it. Because of this, Shunsui does not like to "play" with "her".
Shikai Description:"Flower Wind Rage and Flower God Roar, Heavenly Wind Rage and Heavenly Demon Sneer" (花風紊れて花神啼き天風紊れて天魔嗤う, hana kaze midarete, kashin naki, tenpū midarete, tenma warau; Viz "When the Flower Wind Rages, the Flower God Roars, When the Wind of Heaven Rages, the God of the Underworld Sneers"). Kyōraku sets the two blades against each other in a cross, and then pulls after uttering the poem-like command. When the flash clears, Katen Kyōkotsu has become a pair of huge, heavily-curved, black Chinese scimitars with silver edges. The hilt and tsuba of each are still the same as they were in Katen Kyōkotsu's sealed-form, but they now sport long red tassels dangling from the end. Despite the two swords becoming identical in this state, Shunsui has stated they still serve as one (the wakizashi) being used mainly for speed strikes, and the other (the tachi) being used mainly for power strikes. Hence that they still exist as a daisho sword pair, with the wakizashi being slightly smaller in size than the tachi.
Shikai Abilities:The power of Katen Kyōkotsu is to "make children's games real". The Zanpakutō makes the rules and anyone who steps within the boundaries of its spiritual pressure is forced to play by those rules, including Shunsui himself. According to Shunsui, "if you win you live, if you lose you die".
Release:When the Flower Wind Rages, the Flower God Roars, When the Wind of Heaven Rages, the God of the Underworld Sneers").
Bankai has not been revealed
Background
History/Background:Shunsui is the second son of the high-ranking noble Kyōraku family. Despite being of such old and prestigious lineage, he disliked studying and training, and preferred to chase the ladies, although being told by Captain-Commander Yamamoto that he was able to see the truth and was wise for his age. Because of this, he was sent against his will to the Shin'ō Reijutsu Academy (Shinigami Academy). While there he came to know Jūshirō Ukitake, who would become his best friend and fellow captain. He, along with Jūshirō Ukitake, was one of the first Shinigami to become a captain through the Shinigami academy. Furthermore, he was personally trained by Yamamoto. He and Ukitake are the oldest captains amongst the Gotei 13, with the exception of Retsu Unohana and Yamamoto himself. It was stated that the four of them have been Captains of the Gotei 13 for at least 100 years as of 110 years ago before the current time.
110 years ago, he was shown to have a unique relationship with his Lieutenant Lisa Yadōmaru, though in contrast to his relationship with his current Lieutenant Nanao Ise, Lisa was more outgoing and perverted in a way much like his own personality. But he found that his position required him to be the "adult" in the situation. He was also the first to casually mention, to an inquisitive lieutenant Sōsuke Aizen, that the previous 12th Division Captain was promoted to the Royal Guard. He was also present at the promotion ceremony of the newly appointed 12th Division captain Kisuke Urahara.
9 years later Shunsui was present at an emergency meeting called by Captain-Commander Yamamoto. He decided to create an investigative team to locate the missing 9th Division squad members. When he gave out the orders, Yamamoto ordered Shunsui to guard the Seireitei.] When Yamamoto decided to send both Kidō Captain Tessai Tsukabishi and Kidō Lieutenant Hachigen Ushōda of the Kidō Corps, Shunsui instead advised him to send only Hachi and replaced Tessai with his own lieutenant, Lisa. He tried to cheer up a shaken Kisuke Urahara, telling him not to worry about his lieutenant, Hiyori Sarugaki, who was sent to help the 9th Division, because she was strong, though not as strong as Lisa.
During a night-walk he met up some squad members that were on guard and congratulated them of keeping watch on the Seireitei. He also noticed lieutenant Sōsuke Aizen taking a night walk, muttering to himself that he was maybe over-thinking things before leaving. Later in his barracks he was addressed by a very young Nanao Ise, who had come to see his Lieutenant, Lisa Yadōmaru. Shunsui then remembered that Nanao always came to him around the first of every month to have Lisa read to her. Nanao confirmed this, only to be told that Lisa was away on a mission, but would be back soon.
Roleplay Sample: Shunsui was lazily drinking and at the squad four barracks and being himself when a strange man walked up to him and said he dosen't look like a bad man but he must pass irregardless. Shunsui then sighed "oh just sit down and have a drink for a while because unfortunately